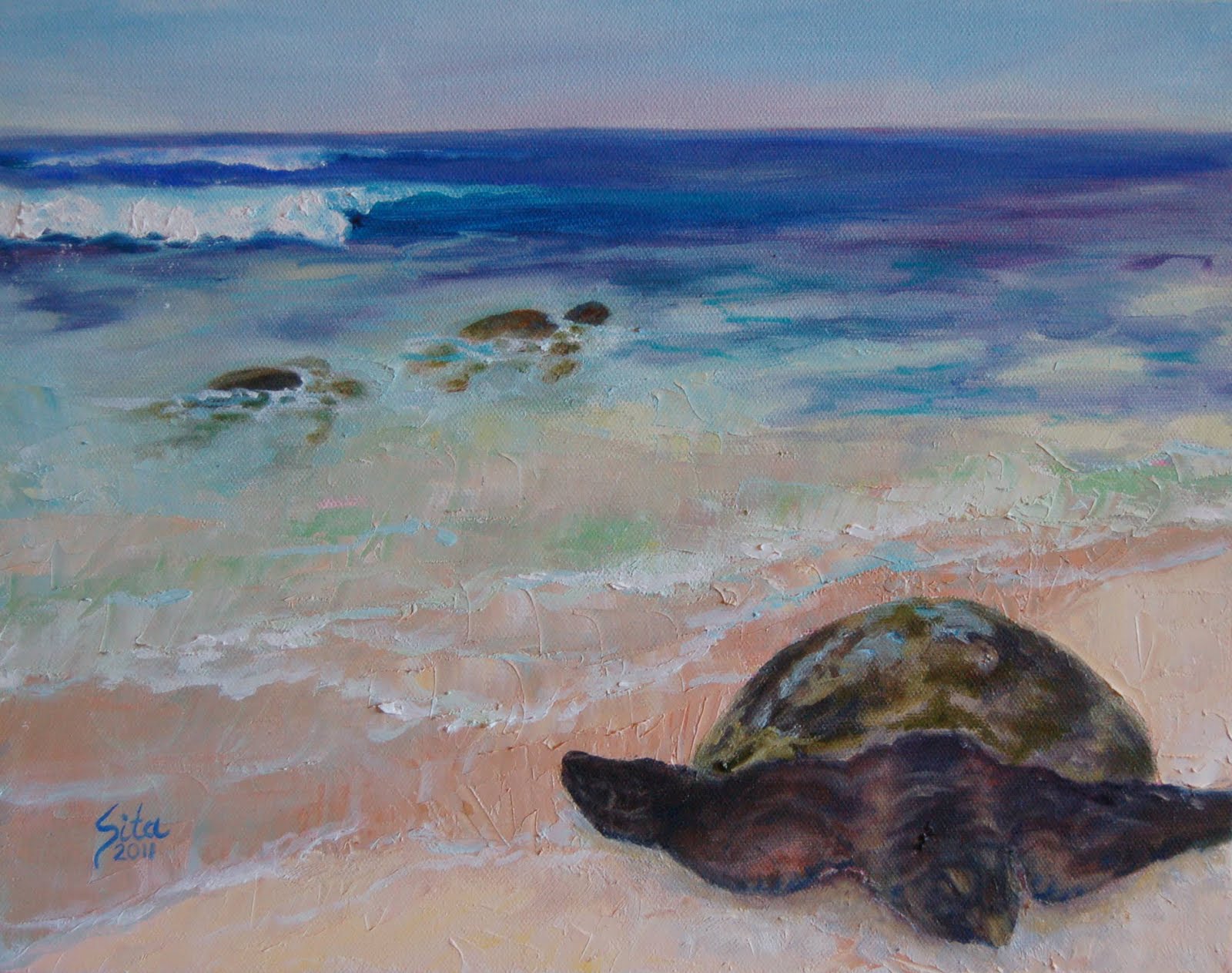 Date: 5/15/2011
Location: Uluweuweu Bay
Size: 14" x 12"
Medium: Oil on stretched canvas
Artist's Comments: I was commissioned by one of my collectors to recreate a memory for her nephew, Matthew. He had visited Hawaii a few times and must have had a strong spiritual connection with the endangered Hawaiian sea turtle because it seemed every time he went to the ocean's edge, there were always three turtles. Particularly there were two swimming in the shallow water and one sleeping on the shore. As I worked on the painting, the turtles took life and a story developed of what the turtles must have thought when meeting this special boy. The story goes something like this.
Once upon a time in a tropical paradise called the Big Island Hawaii, there lived 3 Hawaiian sea turtles. Lele and Kai were born in the soft sand nest of Pahue Bay, while the larger turtle, Ku'uipo, was born many, many years ago on the French Frigate Shoals. Despite coming from different beaches, the three met each other at Uluwehuwehu Bay, and quickly became best friends. On one particularly beautiful day, they were swimming in the shallows, riding the soft waves when a bright canoe came gliding by.
As they poked their heads out of the water, the turtles noticed a special boy peering back at them. His name was Matthew. Matthew had glided on the wings of a large silver bird to Hawaii from a land far beyond the shores of the Big Island. Lele and Kai decided to follow the boy, swimming with him as he discovered the beautiful bay while Ku'uipo headed to rest on shore. Ku'uipo had just returned to Hawaii from the French Frigate Shoals where she had laid a nest full of eggs in the very same spot she was born. Ku'uipo wanted to meet the boy but she was exhausted and needed to rest for awhile on the sand.
In a short while, the canoe also returned to shore and Matthew came up to Ku'uipo to say hello. She barely lifted her sleepy eyes and looked into his eyes. "Hello dear Matthew" her eyes seemed to whisper, "it is so nice to meet you". Her eyes drooped closed and she went back to sleep, happy to have met the boy. She realized this was the same boy the three had been with during a ceremony a few years before. It is here under the warm Hawaiian sun, on a white sandy beach, that Lele, Kai and Ku'uipo keep fond memories of Matthew. No matter where he is in the land far away they will always be with him.
To view other paintings in my collection, click on the section labeled "View all SitaScapes" located at the top right of my blog. I have categorized my paintings by the month as I complete them.