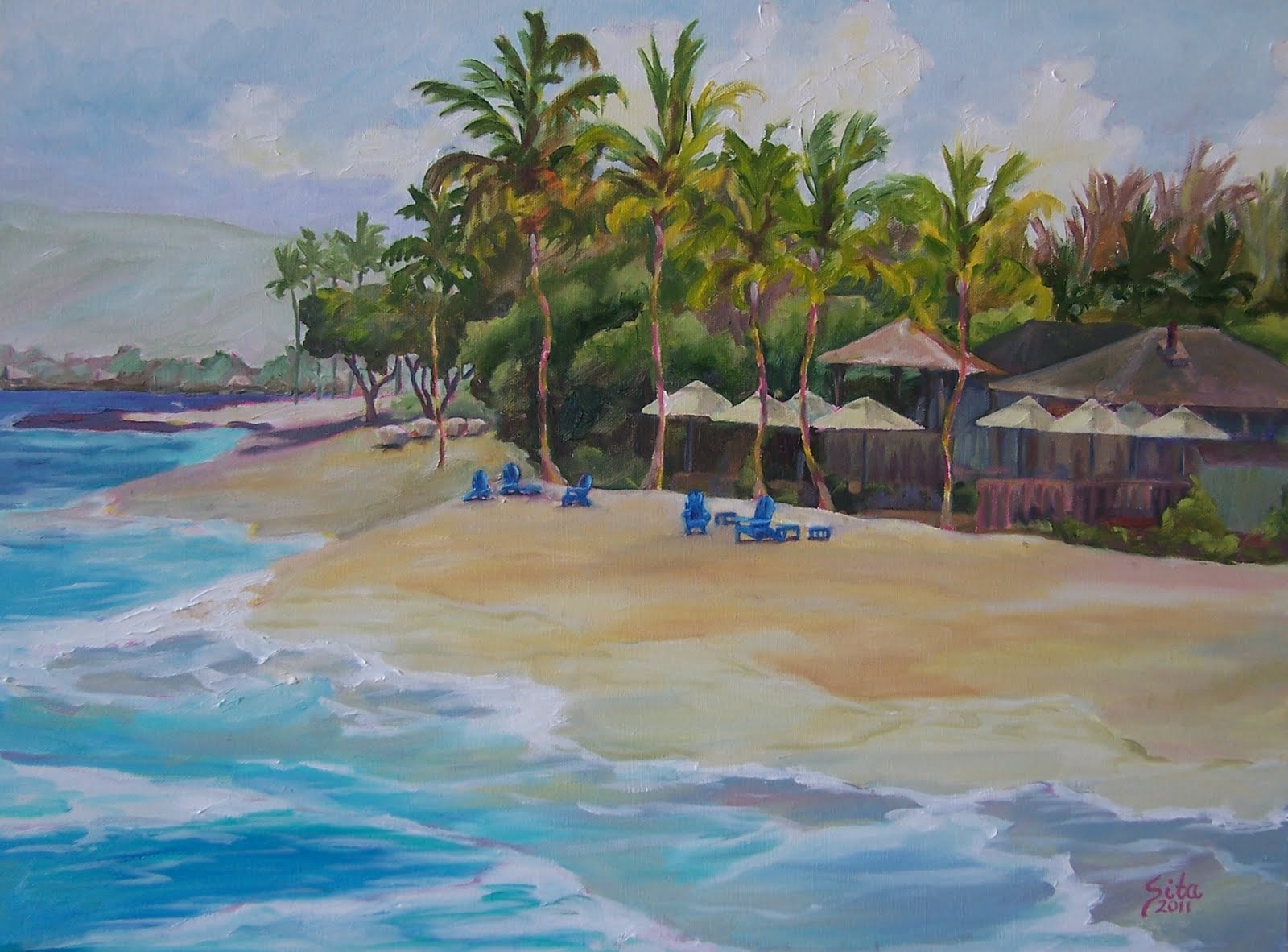 Date: 09/09/2011
Location: Hualalai Resort
Size: 24" x 18"
Medium: Oil on stretched canvas
Artist's Comments: Nestled along the Kohala Coast shoreline sits one of the most charming restaurants on the island; The Residents' Beach House. Located in a private resort, this restaurant offers a casual environment in a breathtaking oceanfront location. The March 2011 tsunami resulted in significant damage to the restaurant and caused its closure for several months to allow time to rebuild. Today it is difficult to imagine what the old Beach House looked like because the renovations are so stunning. The only hint to the tsunami damage are the bright contrast between the newly added bar pavilion roof and the weathered shingles of the old structures. The iconic "Beach House Blue" Adirondack chairs still sit perched on the sandy shore beckoning you to come take a break and enjoy the waves rolling onto shore. This restaurant is hands down my favorite place in the Resort and I'm not alone! I was commissioned to capture this special place for a client that wanted to recall the wonderful times she enjoyed dining at this restaurant with her family and friends. The painting will share wall space in a room where brightly colored artwork bring vibrancy to the space. Shades of azure, magenta and sky blue are dominate colors in an art collection where the collector knows the artists personally. In approaching the color scheme for this piece I knew it needed to compliment the present color scheme but it wasn't difficult! I had so many wonderfully bright colors to work with that occur naturally in this subject.
To view other paintings in my collection, click on the section labeled "View all SitaScapes" located at the top right of my blog. I have categorized my paintings by the month as I complete them.