A collection of workshops, classes and "ah-ha" moments that allow me to continue to develop and discover my passion for painting...
On-Going Classes with Lori Hight
I am so fortunate to be part of
Lori Hight's
on-going class where we work together every other week on different techniques and challenges. Lori has been a long time friend and co-artist and I look forward to working under her guidance in the weeks to come!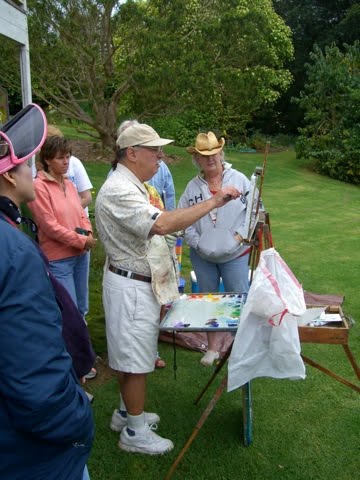 Plein Air Palette Knife Oil Painting
with George Allan
Kula, Maui
July 17, 2010 - July 18, 2010
I traveled to Maui to take a workshop with George Allan. I was attracted to this class for the simple desire to get more paint on my canvas. I had dabbled a few times with the pallet knife in prior paintings and liked the textures it created. After the workshop, I discovered I learned more that I anticipated. In addition to seeing a master at work with the palette knife, George opened my eyes to the vast array of colors that can be created and the importance of achieving the correct values. This class was about mixing colors as much as technique and I loved every minute of the class! I was like a sponge and took back with me some great lessons that will greatly improve my painting skills. I am looking forward to putting them into practice in future work!
Some of my work created during this workshop...
George and Janet live on a 2-acre oasis planted with countless blossoming and fruiting trees including a vast collection of native Hawaiian plants and trees. I selected a nice garden path to paint with its dark shadows leading to the blooming flowers beyond. Although not in full bloom, the path was lined with wonderful lavendar shrubs with a jacquranda tree just coming out of bloom overhead.
One of my favorite aspects of the class was that while each artist was busy painting away, George would come around and spend some time with each artist. He sketched out a small "study" or sample of what each of us was working on. This helped us strengthen our composition, identify where the shadows are and, helped us mix the multitude of greens found in the gardenscape. It was amazing to see him whip these out so quickly and on such a small canvas (4" x 6")!
After George completed his sketch of my scene, I went back and repainted it a second time taking into consideration the reference sketch he created. I also took note how he laid large swaths of thinly coated layers then built detail and highlights on top of this layer bringing depth and perspective with each stroke. This was one of the best experiences I've had in a learning environment.